hey everybody! Hope your Christmas is going so well so far!!
Today I've got a very simple tutorial for the pretty jars in my Christmas Post. Remember those pretty candle holder jars and the bottles full of pretty sparklies? Well, here's how I made them
Supplies:
clear glass jars, bowls or bottles
bag of epsom salts
white glue
Tools:
shallow pan ( I used a disposable aluminum cooking pan)
foam brush
small bowl
1. pour some white glue into your small bowl and some epsom salts into the shallow pan.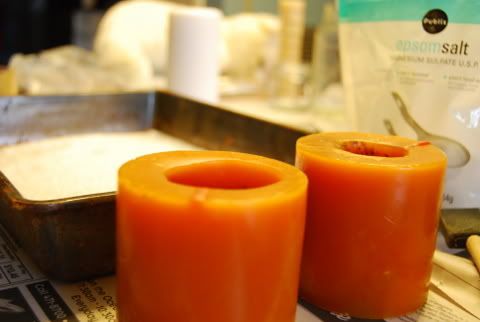 2. Using your paintbrush, paint the outside of your glassware with the white glue.
You want a nice thick coat- the thicker the better, but try not to let it get drippy!
3. Roll your now sticky piece in epsom salts
4. Allow to dry!
5. Fill with candles or other holiday decor!
cost:
epsom salts: $3/bag (one bag is PLENTY)
glassware: variable. I had mine on hand, so it was free!
white glue: $1 bottle
upsides:
-great, super easy, quick project with great result
-cheap and not overly popular!
downsides:
-messy. Both in making and in upkeep. I have trouble with epsom salts all over my apartment.
-when used as a candle holder, the epsom salts become opaque and matte, losing some of the frosted look. They are still very pretty, though!
rating:
4/5. I'd definitely try it again, and I'm very pleased with the result!!
*these pictures are not mine. No copyright infringement intended.